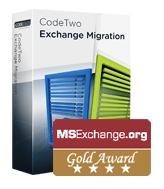 Wenige Tage nachdem Ratish Nair seinen umfassenden Bericht zu CodeTwo Exchange Migration veröffentlicht hat, stellt ein anderer Microsoft MVP, Peter Bruzzese, das Programm auf MSExchange.org vor.
Im Gegensatz zu dem Artikel auf MSExchangeGuru beginnt Bruzzeses Review mit einem ausführlichen Kommentar zu dem auslaufenden Support für Exchange 2003 und zu der mangelnden Möglichkeit, von der mittlerweile zehn Jahre alten Programm-Version in einem Schritt auf Exchange 2013 umzusteigen. Darüber hinaus bezieht der Autor das Tool für Migration zu Office 365, CodeTwo Office 365 Migration, mit ein.
In den Vordergrund der Rezension von Peter Bruzzese rücken insbesondere die problemlose Konfiguration und Bedienung der Software: "The interface looks modern and cohesive across the tools. The options are clear and there aren't a thousand little extra settings that require a week long class to make the migration happen.".
Peter Bruzzese lobt zudem das attraktive Preismodell der beiden Tools, unter Berücksichtigung der Tatsache, dass der Wechsel zu Exchange 2013 bzw. zu Office 365 ein einmaliger Vorgang ist.
Den vollständigen Review-Text findet man auf MSExchange.org: http://www.msexchange.org/articles-tutorials/product-reviews/product-review-codetwo-exchange-migration-and-office-365-migration.html
Planen auch Sie eine Migration weg von Exchange 2003 bzw. SBS 2003? Sie können unsere Migrations-Tools unverbindlich testen. Die Trial-Version ermöglicht eine Verschiebung von bis zu 10 Elementen pro Ordner.
CodeTwo Exchange Migration kostenlos testen
CodeTwo Office 365 Migration kostenlos testen
Antworten auf alle wichtigen Fragen zu Installation und Konfiguration der beiden Programme finden Sie in den FAQs und im Benutzerhandbuch auf der jeweiligen Produkt-Webseite.
CodeTwo Exchange Migration – FAQ
CodeTwo Exchange Migration – Benutzerhandbuch
CodeTwo Office 365 Migration – FAQ
CodeTwo Office 365 Migration – Benutzerhandbuch
Bei Zweifeln und Problemen wenden Sie sich an unseren technischen Kundendienst.